Elanoras most trusted local fault finding, lighting installation and renovations electricians
Frequently Asked Questions
We offer a wide range of services, if you have electrical questions we are just a phone call away
I have had bad experiences when it comes to hiring tradies- What is different
with T-Rex Elec?
We pride ourselves on being professional tradesman but we are people first and know that your home is your castle. So we strive to set ourselves apart by adhering to strict standards when it comes to dress, appearance and the conduct of our staff.  We bring drop sheets to protect your home and furniture and clean up and cart all the waste away after.
Do you charge for travel?
Some electrical contractors say that they have no service charges, but often charge more for the first hour or have a minimum charge of 2 hours.
Unlike some business we pay our electricians for the whole day, not just when they are onsite. As such, we charge a low fee for service that does indeed go to the cost of travel to your place but also contributes to:
vehicle maintenance,
tolls and parking,
set up of equipment,
setting up safety barriers as required for the work area,
isolation of circuits as required under the Electrical Safety Regulations to work safely,
cleaning the work area on completion of the work,
environmentally responsible waste disposal in City of Gold Coast waste facilities,
and,
testing and commissioning our work to make sure it is safe and compliant,
as well as secure storage of your personal information that we use in our mandatory test records.
Can I pay my work off over time?
You sure can! We have partnered with the Australian company Zip, and can offer 6 months interest free through Zip Pay and Zip Money for all types of electrical work.  This way you can get the work you need done today with no upfront costs.
My power keeps tripping- how can I fix this myself?
This is a regular situation we are called about, the good news is that often it is a minor issue that is causing the problem and can be resolved without the need for a licensed electrician.  We have a great video that helps our customers and can save you money by following the steps outlined in it. This video can be found on our HOME PAGE and is titled 'DIY Fault Finding'
I am worried that my home has dangerous wiring- how much will it cost to fix?
This is a great question and is often the first one our customers want answered. Dangerous wiring is a leading cause of house fires in Australia so it makes sense to get it fixed so you can sleep at night.
The wiring in any home is complex system and as such there are many variables that can affect the cost. Luckily, we are able to come to your place perform an electrical health check and accurately determine what needs to be done to get your home electrically safe again.
Local electricians you can trust
Want Professional Advice On Your Electrical?
Call The Best Electricians
In town
T-Rex Elec electricians get 5 star reviews from people who have trusted them to repair the wiring in their home and business, making these places safer and better places to live and work.  Call us to experience our outstanding service and legendary value today with no dodgy charges and no mess left behind.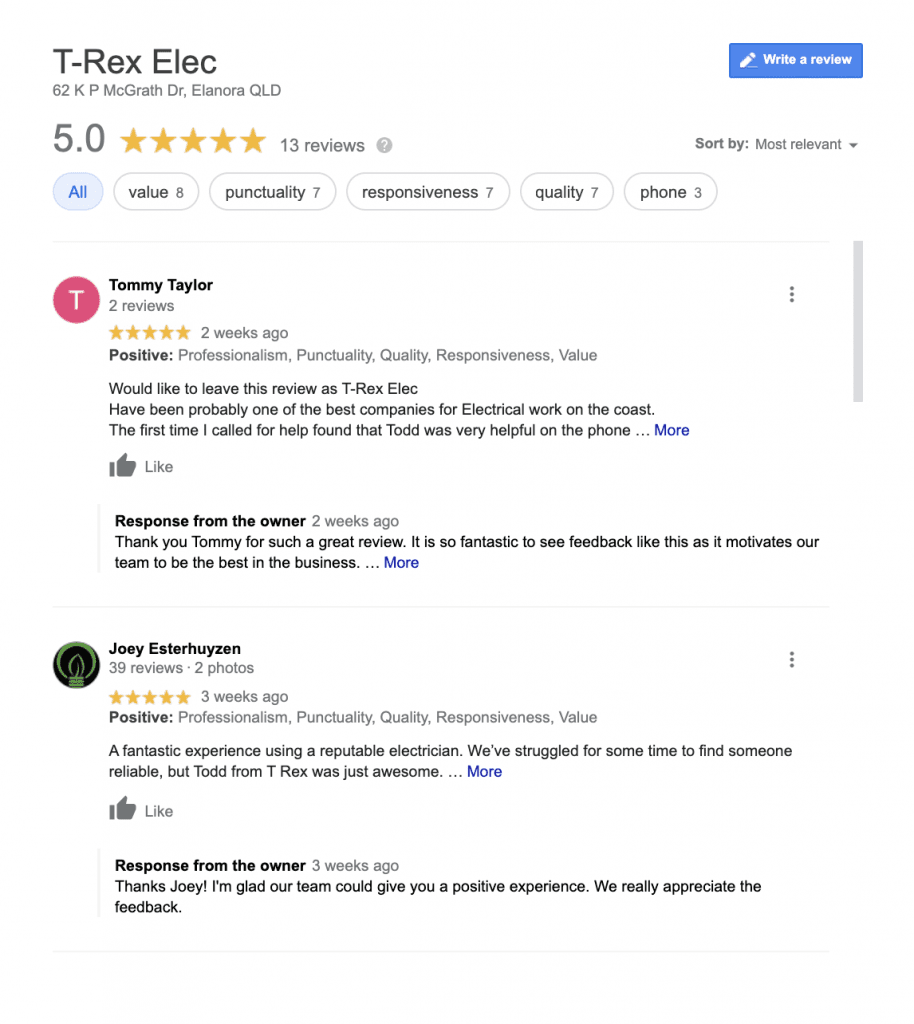 Request a quote from local electricians