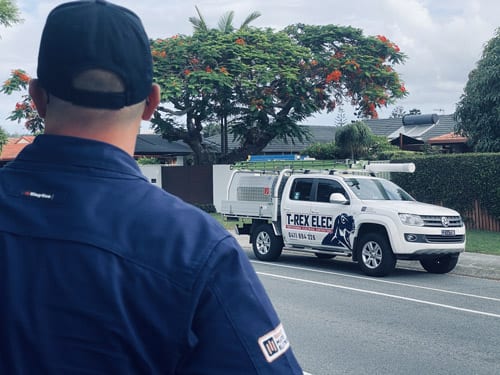 Would you like to be rewarded for your hard work every day?
Do you always put in 110% but feel you are not being noticed?  At T-Rex Elec, your confidence and customer relations skills will lead to more for you as we offer generous bonuses because we value hard work and effort.  You can receive the benefits of an exciting rewards system which pays you for the hard work and business development that you undertake each week.
Enquire about working with us today
We are always looking for the right person to join our team.
If you are interested in joining our forward facing company contact us on 0411894226 to get started.
Do you want to grow as an electrician and build your personal and professional skillset?
We provide one-of-a-kind, high quality, ongoing support and training to develop your electrical skills and your confidence and communication as a person. You will be challenged every day to work efficiently and provide exceptional service while rising to your new responsibilities.  You will be an integral part of our team and business that is rapidly growing.  We will help you be all you can be.
T-Rex Elec is the perfect environment for you then!  We are a professional Electrical Contracting business helping commercial and domestic customers on the Gold Coast, and we are expanding now.
We value knowledge and hard work while exceeding the expectations of the customer on every job. 
The safety of our staff and clients is always top priority.  We complete a range of different jobs every day, from installing GPO's and fans, replacing downlights or upgrading switchboards.  We also service commercial, hospitality and real-estate clients with a wide range of maintenance and machinery jobs.
You will be challenged every day, however with those challenges you will be rewarded as you deliver quality service and top value to every client.
Other things we look for:
Give our Director a call today and talk to him about why you would want to be a part of our team.
Call the best electricians on
the gold coast